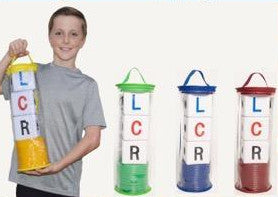 Special Offer - BIG LCR® Left Center Right™ - Zip Bag
$ 99.00
Available for a limited time!
Save 25% when you buy all 4 colors! 
This limited time offer is a great way for you to get a gift for anyone on your list.  BIG LCR® Left Center Right™ is a great gift for Adults, Kids, Teachers, July 4th, Secret Santa, Hanukkah, or any other occasion you are celebrating!
What's included?
This bundle includes four BIG LCR® Left Center Right™ Dice Games. You will receive of each color, Red, Blue, Green, and Yellow in the Zip Bag. 
Just like our original version, BIG LCR® Left Center Right™ is a fun and fast paced dice game. Players roll the dice to determine where they pass their chips. The last player with chips is the winner and wins the center pot.
Our BIG LCR® dice are made of high-quality EVA foam which makes it safe for any surface. The chips are made of a durable plastic.  Item Dimensions: 17" H x 6" W, Foam Dice approx 5", Chips approx 5". Instructions included.
Play Indoors or Outdoors!
3+ Players 
Ages 5-105!